Is the Salesforce Ohana dead?
For a while now, Salesforce has been using their Ohana (family) culture to drive a sense of belonging among employees, partners and customers.
When Salesforce announced on Jan 4th 2023 that they were laying off close to 8,000 people, many people in the Salesforce community started to question if Ohana is even real.
The overall sentiment is how a company that considers its employees family could suddenly fire so many people so suddenly, including very senior top performers.
So, is the Ohana culture dead? Are we all victims of clever marketing? Could it be that our understanding of Ohana was wrong all along? Let's dive in...
What is Ohana?
Here's the official definition of Ohana, based on this Salesforce blog post:
In the late '90s, our CEO Marc Benioff wanted a break. He decided to take a sabbatical, so he rented a beach house in Hawaii (doesn't get much more relaxing than that). On the islands, he connected with locals and learned about many of the Hawaiian's traditions and customs, including the concept of Ohana. In Hawaiian culture, Ohana represents the idea that families — blood-related, adopted, or intentional — are bound together, and that family members are responsible for one another. When he created Salesforce in 1999, he made sure that "Ohana" was in the company's foundations.

Today, the Salesforce community is a deep-seated support system we nurture inside our company. And, it doesn't stop at our employees — it extends to our partners, customers, and members of the communities that we call home. We collaborate, take care of one another, have fun together, and work to leave the world a better place.
Why are people upset?
Many people, whether let go or not, have gone to social media to express their frustration with how these layoffs where handled.
Among the common complaints are:
Some people were let go while on paternity/maternity leave
Some people found out while trying to get in the office, and realised their badge wasn't working
For some, it was a total blackout, not even their managers knew what was happening.
An initial email was sent, letting the entire company know that within one hour, they would receive a 2nd email if they were "chosen" to be let go. Many people experienced difficult feelings of anxiety and uncertainty during this time.
When you combine these experiencies with a perceived sense of family, conflict arises. It's difficult to understand why your "family" would turn on you like that.
Here are some comments from members of the Salesforce community on Reddit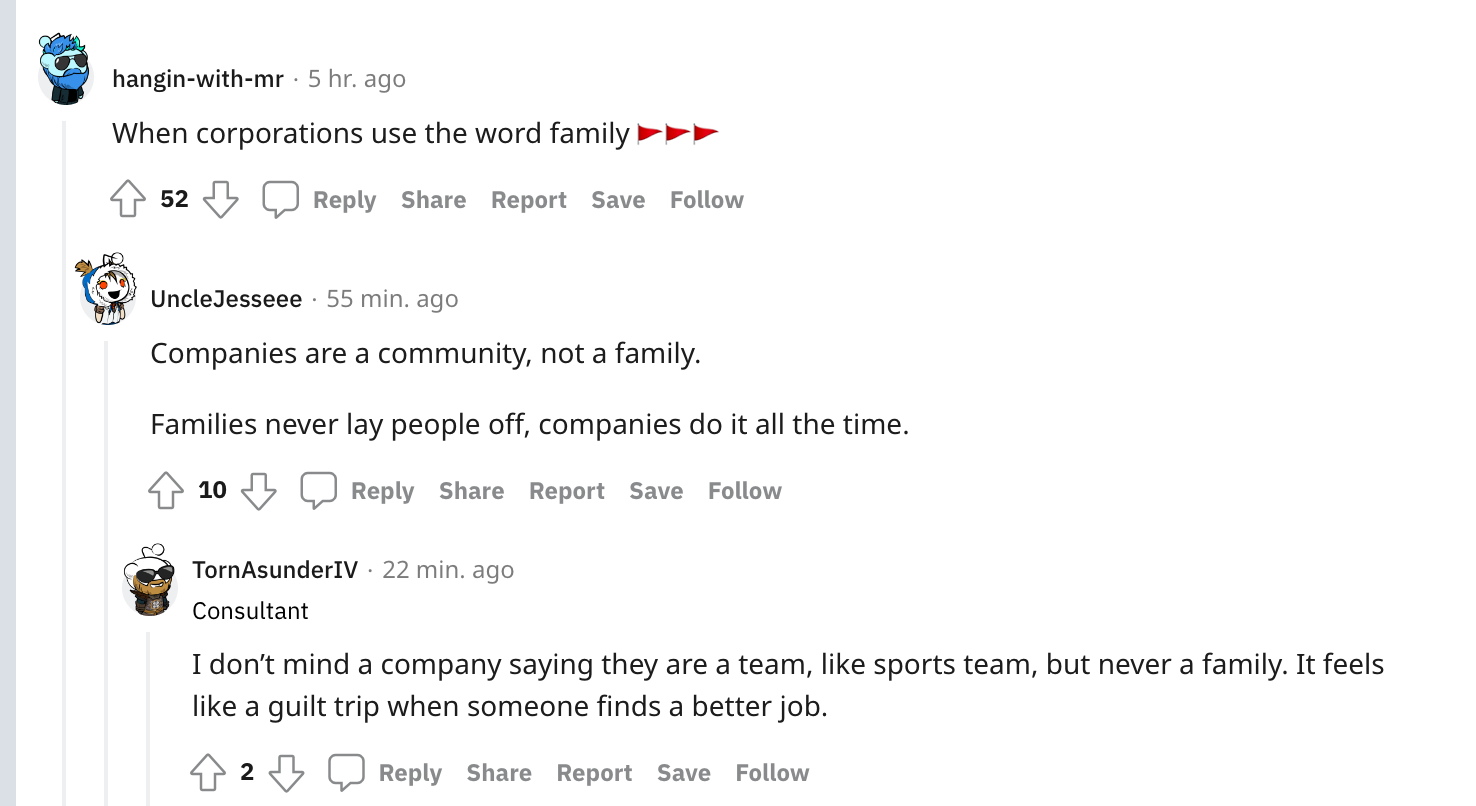 Maybe we got it wrong
I've given this situation a lot of thought and realised that a small part of the problem is our understanding of what a family is.
When we think of family, most of us probably immediately think of a happy family, where everyone supports each other unconditionally and it's all full of love.
Are families really like that?
The reality is that families have a ton of issues. I can guarantee that anyone reading this article has experienced at least 1 of these problems in their family:
Financial debt
Marriage problems (infidelity, divorce, etc.)
Family secrets that come out years later and wreak havoc
Distant cousins, aunts, etc., that you don't get along with
Children who dissapoint their parents with their life choices
Parents that dissapoint their children with their life choices
Illness and death
Mental illness that can break the familiy apart
Problems between siblings
Arguments about inheritance, money, etc.
Parents who disown their children for marrying someone from a different religion/cultural background
Physical and emotional abuse
Family members who end up in jail
So families are not happy and joyful all the time. They come with a ton of problems and many times they break apart. But they are still family.
Consider the scenario where a parent makes a bad choice and ends up in jail. Their kids will be upset, but will still visit them regularly. Or consider the case of the parents who divorce but raise their children together.
The point is, that maybe our understanding of family is simply wrong. Salesforce has never said that the Ohana culture is about life time employment and continuous joy.
Anyone in Salesforce can make bad decisions and make mistakes, such as hiring too many people.  As members of the "family", we can dislike that, and disagree with it, but this does not mean that the Ohana culture was just a lie and a marketing thing.
I want to take a moment to say that this does not take away from the suffering experienced by all those who were let go (and their families). Their feelings of anger towards the Ohana are totally valid.
But even when our feelings are valid, it can helpful to understand what core beliefs are fuelling those feelings. If we believe that the Ohana culture is about continuous employment and experiencing constant joy, then we will experience disappointment at some point.
Again, I'm not suggesting that those who were let go are only upset because of the perceived lack Ohana culture in this terrible situation. They are upset because of how it was handled and because they lost an important part of their lives. Those are valid reasons to feel upset.
So what is the real Ohana?
If we go back to our new understanding of what a family is, we can consider the Ohana as everyone in the Salesforce ecosystem: partners, employees, customers, etc. But just as families are flawed and carry baggage, so does the Ohana.
And yes, not all members of the Ohana are nice, polite or professional. Just like we may not like some of our cousins or relatives. That's ok.
And just as tragedies can bring families together, this tragedy is bringing the real Ohana together. The real Ohana culture can be seen on social media by all those who are willing to help those who were let go, by offering career guidance, networking opportunities, a shoulder to cry on, etc.
I'm not sure if there are other tech stacks (Microsoft, AWS, etc.,) where such a strong sense of community exists.
Conclusion
The current situation is regrettable and I feel for all those who were let go. But it can be helpful to reframe our understanding of the Ohana culture, and accept that it won't always be perfect.